In this article on QuillBot for Academic Writing, we are going to take a look at how one can benefit from the QuillBot Microsoft Word add-on, and combine it with Grammarly Microsoft add-on for academic writing.
Quillbot can be a valuable tool for enhancing academic writing. With its advanced paraphrasing capabilities, Quillbot can help improve the quality and originality of written content. By simply highlighting a paragraph or sentence, Quillbot analyzes the text and provides alternative suggestions, ensuring that ideas are expressed in a fresh and unique manner.
This feature is particularly useful for academic writing, where maintaining originality and avoiding plagiarism is crucial. Additionally, Quillbot's synonym suggestions and paraphrasing options allow writers to enhance their vocabulary and refine their writing style.
Whether it's rephrasing complex sentences or generating alternative word choices, Quillbot empowers writers to communicate their thoughts more effectively, ultimately elevating the overall quality of academic papers.
QuillBot for Academic Writing
Before you start reading the below guide, here is the video version of it.
To start, we will be using the Grammarly and Quillbot add-ons for Microsoft Word. Make sure you have a Microsoft Word file open with your research paper inside. Now, go to the insert tab, and from the add-ons, go to the Microsoft Office Store.
First, search for Quillbot and add it to your Microsoft Word.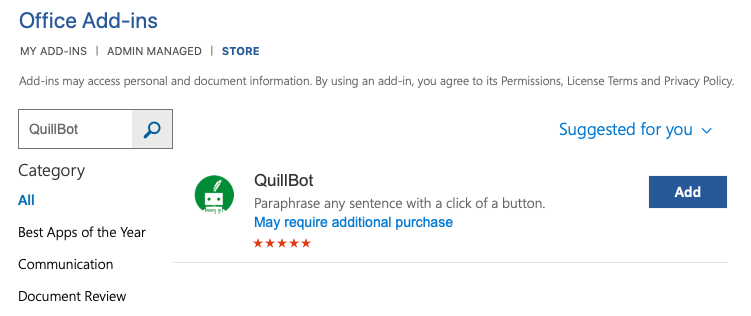 Once it finishes downloading, you should see it on the right-hand side.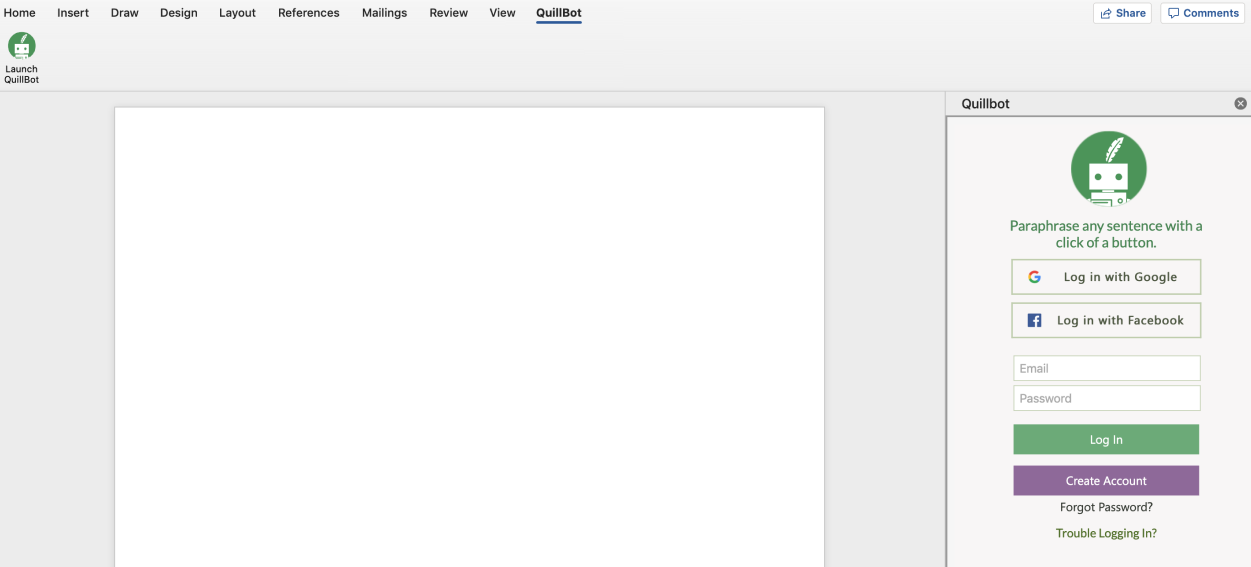 Then, go to the add-ons again, and it's time to add Grammarly. Add Grammarly to Microsoft Word.
Unlike Quillbot, you will see a new tab for Grammarly on the right-most option in the top menu. Open Grammarly and you will see that Quillbot and Grammarly are now side-by-side.
Next, sign in to Grammarly. Now that we have both Quillbot and Grammarly downloaded, installed, and activated on Microsoft Word, let's see how it works.
First, highlight a paragraph or a sentence, and you will see it gets picked up by Quillbot and dragged inside the Quillbot editor. If the mode is set to formal, as it is for academic writing, set the synonym level somewhere in the middle. As soon as you set the synonym level, you can see that it starts paraphrasing.
Here's a quick tip: if you see text strings highlighted in green, it means they are repetitive sentences. This may raise concerns with plagiarism checkers. Simply rearrange these items to avoid such issues.
Now that you have the paraphrased text, quickly copy it and replace the original text. Next, go to Grammarly and check for grammar errors. Once you're done, save your paper. It will be proofread and paraphrased by Grammarly to avoid detection by plagiarism checkers.
And that's it!
Wrap Up!
Read More: Power of NVIDIA Broadcast: AI-Powered Streaming Tools
In conclusion, QuillBot for academic writing serves as an invaluable asset, empowering writers to elevate their work to new levels of excellence. By providing advanced paraphrasing and synonym suggestions, QuillBot helps enhance the originality and sophistication of written content. Its ability to rephrase sentences and offer alternative word choices enables writers to communicate their ideas more effectively and refine their writing style.
Whether it's improving the clarity of an argument or expanding vocabulary, QuillBot proves to be a powerful tool in the pursuit of academic excellence. By utilizing QuillBot, writers can confidently produce well-crafted and unique academic papers that meet the highest standards of scholarly writing.